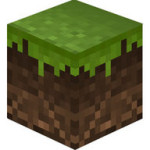 For the creatively inclined, there are few games that'll satisfy as much as Minecraft, a sandbox style video game where you get to create anything from simple structures to environments to castles. In either single or multiplayer, you play as a character in virtual world made of blocks where you collect resources and use them to build, survive, fight, and collaborate with other players. For you socially incline gamers, you can even host your own multiplayer experience by joining a game server or creating your own.
Minecraft has a long history of development. It is the brainchild of video game developer, Markus Persson, has been acquired by Microsoft, and its current development is headed by designer, Jens Bergensten. The Minecraft you've come to know was in part influenced by Infiniminer, also a sandbox video game that pinned players against each other in competition.
Markus saw the potential in the ability to manipulate the environment in a virtual block based video game so he developed is own and released Classic mode in 2009. Classic mode branches off into Creative and Survival. Creative allows you to use blocks of different compositions to build to your heart's content: cities, palaces, environments, characters—if you've got the imagination for it, you can make it happen. In fact, it's the freedom of Creative mode that draws many players to Minecraft in the first place, given that there are no objectives. In contrast, Survival mode is just that—survival. As the player, you need to fend off hunger, build structures for defense, forage for supplies, and battle enemies. After that, Minecraft went through more phases of development in order to become what it is today. Millions of players around the world share the experience, including and especially with each other on multiplayer servers.
To add an extra dimension of fun, Minecraft multiplayer enables you to join another server or host your own. No doubt, some of you have already collaborated with other players in Creative feats or fended off Creeper attacks in Survival mode. Remember that a server allows you to connect to other people on Minecraft. The thing about joining another person's server is that you never know what the rules are going to be, whether you'll enjoy the in-game economy, or the other players are your kind of people. That's why some of you have used or are thinking about using our Minecraft hosting platform. Renting your Minecraft server at ASPnix makes you the master of your own domain.
Some of the benefits are:
Having control over who you interact with; invite friends and family to play in your world
Unlimited slots; some hosting companies will limit the number of players you can have in your server but with us, you can invite have unlimited players.
Controlling the rules; you decide how the in-game economy works, what the social rules are, who can go where and build what
Multicraft Control Panel – user friendly, comprehensive set of controls over your server
Installing your own mods and plugins; customize the gameplay experience and your control over it
We offer a variety of affordable server hosting plans and packages to meet your needs. So feel free to browse around and see what works for you; we're ready for any questions!