SmarterMail is an excellent email hosting solution that provides Exchange-level mail server features at a fraction of the cost. With minimal hardware requirements, superior stability, and reduced maintenance costs, SmarterMail has a much lower Total Cost of Ownership (TCO) than Microsoft Exchange and is the best-in-class alternative for businesses and hosting companies. Our SmarterMail Email Hosting offers great value for a low-cost, making it an ideal choice for your email needs!
Features
SmarterMail is a fully packed feature rich Enterprise Level Email & Messaging server! With one of the best web interfaces offered by a mail server, we are sure you will be blown away by the SmarterMail interface and its abilities. All powered by the
all new and completely redesigned SmarterMail!
To check all available features, please review our features list! Some of the best features are…
Free Kaspersky-based AV / Malware protection
Kaspersky anti-spam filtering engine powered by the Kaspersky Security Network
SMTP / POP3 / IMAP with SSL and TLS secured ports
Exchange Web Services included at no additional cost
Native MAPI Support with no plugins or custom settings
CardDAV and CalDAV supported
XMPP support for jabber clients like Trillian, Adium, Apple Messages, Pidgin and many more
Renowned webmail web interface
Simple, hassle-free migration
Instant communications through the integrated chat system
Tasks, Notes, Contacts, Calendar Events, RSS Feeds and File Storage
Attach and send documents, images and other files larger than 50MB using File Storage
Advanced custom filtering rules
View reports for many aspects of your email accounts and domain
Incoming and Outgoing email archiving
DKIM / DomainKeys outgoing email signing
Spam & Virus
We rely on many methods to stop spam from reaching your inbox. We know how important it is to keep your mailbox clutter free from these annoying emails! Our anti-spam system is powered by Kaspersky's Mail Server Security software. Kaspersky utilizes their extensive network and cloud-assisted technology that combines mail servers all over the world to create signatures, patterns and even advanced machine learning technologies to score and process email messages.
Technologies such as SPF and DKIM also help filter and identify spoofing attempts and further assist limiting the amount of junk your mailbox sees!
We also rely on real-time IP blacklists like Spamhaus, CBL, Barracuda, GBUDB, SenderScore and others to block known spammer networks, compromised mail servers and known spammer mail server addresses as well as URI blacklists such as URIBL and Spamhaus
to filter emails that contain known bad (spam, malware, phishing etc.) URLs and hostnames.
To protect your mailbox from viruses and malware, we use the power of Kaspersky and their massive reach and filtering of nearly 2-billion threats!
Email Clients
SmarterMail is an Enterprise Level Email & Messaging server that supports all email clients that support SMTP, POP3, IMAP, ActiveSync and Exchange Web Services. Some of the most popular email clients use with our SmarterMail Hosted Email services
are…
Microsoft Outlook (Including 2013+ w/ ActiveSync)
Windows Mail (Mail for Windows 10)
Apple Mail (macOS/ iOS)
Android Mail
eM Client
Mozilla Thunderbird
Opera Mail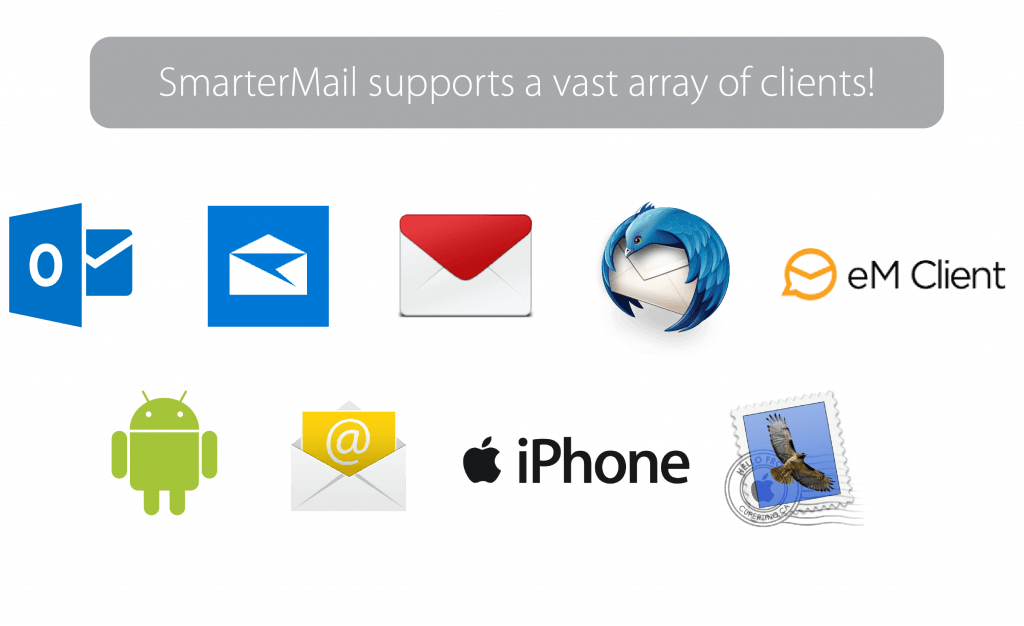 Screenshots
Screenshots of the SmarterMail interface will give you a quick idea what the user interface looks like. If Screenshots are not enough, we offer a live demo where you can sign into our SmarterMail system and explore the user interface, features and other
aspects of SmarterMail.
Stability / Uptime & Backup Systems
In the unlikely event that something goes wrong, our hosting website offers multiple (US and EU based) backup mail systems for redundancy. This way you never miss an email! In the unlikely event that our primary email hosting server does go down, our
backup mail servers will instantly start taking and holding all the incoming mail, once the primary server is back online all held email will be delivered. SmarterTools has developed one of the most stable, efficient, high-performance email server
solutions available! Still not convinced? Let our publicly available live server stats do the talking!
Pricing & Ordering
To make it easier for our new customers, we offer you the ability to pay for only what you need! Pricing for SmarterMail accounts are priced at $0.10 per account, disk space is simply priced at $0.25 per GB. ActiveSync and Email Archiving are available
as optional features which you can order during the checkout process.
Addons
We offer the following addons to enhance your SmarterMail experience!
Exchange ActiveSync – Instant email alerts and more

$1.00 per Account Monthly
$12.00 per Account Annually

SmarterMail Email Archiving – Archives all incoming / outgoing email automatically

$20.00 per Domain Monthly
$240.00 per Domain Annually
Migration
SmarterMail includes a built-in utility for easily migrating your email from your current provider to our services. Many services have built-in support for migrating many features such as Microsoft Exchange, Google (Gmail), Yahoo! Mail Plus, Windows Live
Hotmail Plus, Zimbra, Kerio, MailEnable, Icewarp and many others! Don't see your mail server in the list? No problem, SmarterMail can migrate email from any service or server that supports POP3 or IMAP! We've handled mailboxes as large as 100GB and
migrated them with ease!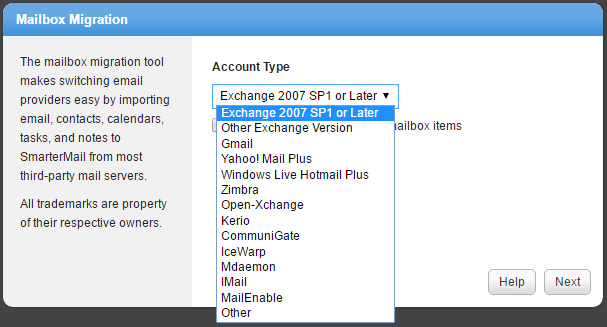 Control Panel
ASPnix uses a heavily modified version of WebSitePanel to allow you to easily manage your email accounts, aliases, groups, lists, ActiveSync accounts and more! Our Control Panel also offers a public API where customers can programmatically manage email
objects with ease!