ASPnix is pleased to announce Database Vault for Windows – a brand new database backup management application. Database Vault offers a simple all-in-one solution for creating and managing MySQL and Microsoft SQL Server database backups. No need to have multiple applications for different SQL database engines, let Database Vault do it all!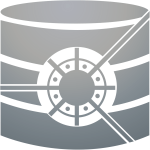 Database Vault has the ability to store database backups to a variety of storage locations and solutions, such as a local disk, external USB drive, network storage, or an offsite FTP server. More storage locations such as Dropbox, Amazon S3 and Google Drive are coming soon!
A single installation easily manages an unlimited number of database backups and versions. Backups take almost no time to create, and multiple databases can be backed up simultaneously, streamlining the process. Database Vault supports both full and incremental backups for Microsoft SQL Server, as well as supporting SQL Server's native backup compression. Additionally database backups can be compressed to save space, password protected, and AES-256 encrypted for security. Database Vault has email notifications support for successful or failed backups and can include the backup task log file for a quick diagnostics of what has failed or gone wrong.
Database Vault integrates with the Windows Task Scheduler to allow backup administrators to schedule and plan backup tasks or directly edit the scheduled task within the Windows Task Scheduler, allowing optimal control over the task's execution.
Database Vault has been tested with databases from only several MBs all the way to 100GBs and handles databases of all sizes with ease!
For a limited time, we are offering a $50 off launch promo on both the MySQL and Microsoft SQL Server backup options.